Sunday, May 23, 2010
So I thought I should start my blogging experience with something meaningful. As a result, I will post my drama recommendations. Anime, manga and music lists will follow.
1. LIAR GAME
Synopsis :
Kanzaki Nao is a naive collage student who, one day, finds a suit case containing 100 milion yen outside her apartment door, along with a card saying she's been chosen to take part in the "Liar Game", a game which consisted in gaining money by stealing them from your opponent. Desperate, she asks the recently releaseed from prison genius swindler Akiyama Shinichi for help.
Note: Show has two seasons.
Personal opinion:
Ever since watching the first episode of this series, I thought "OMG! This Japanese guys are geniuses!". So, truth be told, I think that said it all. A true masterpiece!
Honestly, I wasn't very impressed with Toda Erika's acting. If you ask me, the poor girl has always received the most annoying roles possible ( see Death Note live action). Her character is portrayed as being an exageratedly stupid girl.Definitely a turn off.
However, Matsuda Shota is incredible. This seems the perfect role for him. I really wouldn't have seen anyone else playing it better then him. It somehow compensates for the ridiculous impression that the main female character gives off.
This, of course, it's a subjective opinion, but I recommend this series whole-heartedly. I promise it won't be a waste of time! So, if you haven't seen it yet, hurry up and watch it! :)
2. KUROSAGI
Synopsis:
There are three types of swindlers in this world: red swindlers, white swindlers and the one who feeds off of them - the black swindler. This are, more or less, the opening words of every episode of the series.
Kurosagi is a young man whose family was destroyed by a swindler (more precisely, after being swindled, his father killed his whole family and then killed himself; Kurosagi managed to survive due to pure luck). After the tragic events, he swore to take revenge on all swindlers, especially on the white swindlers who take advantage of people's emotions and are far more cunning then the red swindlers.
The plot was, of course, what attracted my attention and persuaded me to watch this. Just as Liar Game, Kurosagi too is inspired by the manga with the same title, which, by the way, I recommend and, though it isn't very faithful to the original manga plot, it still carries the same air about it, an air of mystery and excitement. I really enjoyed watching the swindlers get tricked and the main character changing his appearance so often. I actually found myself cheering for him quite some numerous times: "Go, go, Kurosagi! You rock!"
I admit that for some reason Horikita Maki annoys me too. Don't shoot me! Unlike Erika Toda, who I adore as a person, but whose most roles I hate, I love Horikita Maki's roles, but I dislike her as a person. Don't ask me why... So, yeah, I can't say much about her role because I dindn't really py attention to it. All there is to know is that she portrays a Law student who hates Kurosagi's methods of making justice. A true idealist, indeed.
As for the main lead, how could I have any bad comments? He's Yamapi for God's sake!!! The absolutely adorable and hot Yamapi! Yes, yes, this are the screams of a rabid fan girl. His acting is superb though so i have an excuse :))
I only have one complaint: I really wish it was longer. Really, watch it and you'll agree with me.
Toru is chosen to be a part of the jurymen in a murder trial. The woman who is trialed is nicknamed "the witch" and she's charged for the murder of her old wealthy husband. Though she appears to be guilty, one by one, all the jurymen seem to change their opinions about it and vote "unguilty". Toru realizes there's something very odd about the whole situation and decides to find out what.
I'l say it straight away, Majo Saiban is one of the most profound and smart j-doramas I've seen. Not only does it approach a very touchy subject : corruption in the legal system, but also it is constructed in such a way that one only realizes at the end that all along, there was a much deeper meaning to the whole story, that the main problem was not the corruption, but the actual human principles, the idea of Justice, the psychology of the righteous type of people. What can I say more? You have to watch it to understand.
Ikuta Toma is by far one of my favourite actors. He's charming, talented and he really did a good job in this show.
If you give this a chance, you will be surprised by the actual depth of the whole plot and you'll definitely love it.
A download link: Click
4.RYUSEI NO KIZUNA
Synopsis:
Ryusei no Kizuna is the story of three siblings whose parents have been murdered when they were very little. At that time the 3 kids had secretly escaped to go watch the meteor shower and when they came back they found their parents bodies in a pool of blood. The three vowed to catch the murderer and kill them by their own hands. 14 years later, coincidentally just when the meteor shower is about to appear again and when their parents murder is about to prescribe, they seem to finally have a lead on who the killer is.
Personal opinion:
Plot:
The plot is quite heartbreaking, but very realistic. The 3 siblings are not described as mental wrecks, but their lives are not really sunny either. The older sibling is, surprisingly, the most emotional out of the three of them, but all of them have turned into skeptics that have no more trust in the authorities. In fact, they start swindling people for money and they've become lonely and insecure people with only one hope in mind, that of avanging their parents. It's a heart-warming story, but not tragic enough to make you spill tears everywhere.
Acting:
With a 5 starts cast, Ryusei no Kizuna was guaranteed to have instant succes and I'm pretty sure it had. This is actually the first role of Erika Toda's that I liked!
Not to mention Ninomiya Kazunari and Nishikido Ryo who are total eye-candies and super good actors.
Overall:
A touching story about brotherly love and how to survive hardship with quite a happy ending. I, personally, loved it. Give it a try.
A download link (scroll down): Click
5. TANTEI GAKUEN Q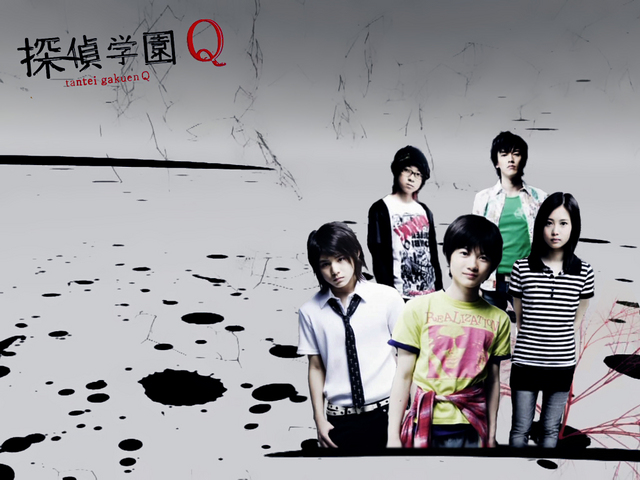 Synopsis:
The story revolves around a team of genius teenagers who study in a detective academy run by a famous detective. They solve complicated murder cases seem to all be planned by an evil syndicate called "Meiosei".
Personal opinion:
Plot:
Yes, I know, I know! The kids are... well, kids. But if you are willing to overlook this aspect, trust me, this drama is quite addicting. And it makes your brain work! What more can one ask for? I also recommend the manga, though the art is not really my type.
Acting:
They are indeed kids, but they have great acting skills. I especially love Shida Mirai, a very talented young actress who has grown quite a bit since this dorama aired.
Overall:
Fun, suspenseful, addicting and a touching message about the importance of friendship. I truly recommend it.
A download link:
Click